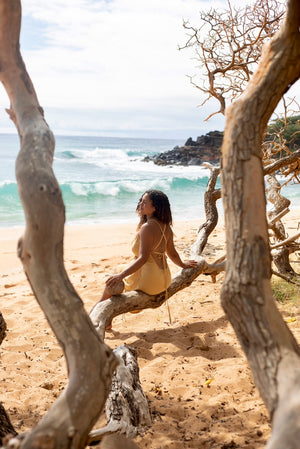 Sustainably sexy resort & swim wear
For the confident & courageous
Eco warrioress
Looking good for Mother Earth
Designed on Kauai, ethically made in Venezuela & Nepal
⭐️with EFFORT 👩🏽‍💻👩🏼‍🔧👩🏾‍💼
We provide job opportunities to women in underserved communities in rural Venezuela and Nepal, to promote their personal development and growth.

⭐️with CARE 🤲🏼💕
We give back by donating 25% of our revenue to organizations working in rural areas of Venezuela and Nepal in health, education and women empowerment initiatives.

⭐️with ATTENTION 🧵
We provide our customers with affordable quality garments made from sustainable or recycled fibers with beautiful and unique designs.
We create pieces for women with real curves to make you feel confident just as your are TODAY!
we make small things with great love
Our Commitment
We are building a network of conscious consumers that care about where and how their garments are made, what their footprint on the planet is and what positive impact they can have. More info
Our Impact
How many bottles have we repurposed? How many jobs have we provided? How many hearts have we been able to touch? This is our grain of sand.